Darwin is the Northern Territory's capital city, surrounded by the ocean on three sides. It's known for its great beaches and warm atmosphere throughout the year. If you love nature and wildlife, Darwin is a fantastic destination. It's close to lots of green space and national parks, including Kakadu National Park.
For fans of fishing, there are plenty of great Darwin fishing spots where you can relax and enjoy your favourite pastime. In this blog post, we run through some of the best fishing spots Darwin has to offer.
Do you need a fishing license?
Before you decide where you'd like to go fishing, it's important to be aware of some basic information. You don't need a licence for recreational fishing in the Northern Territory, nor do you need a recreational boat licence. If you're going out on a boat, you'll need to follow recreational boat laws and make sure your boat has the right safety equipment on board.
What fish can you catch in Darwin?
The waters around Darwin are packed with different types of fish, and many of them can grow to be pretty large! There are a few different species that the area is known for and that you stand a good chance of catching.
• Barramundi – this aggressive fish is often tempted by live bait, and can usually be found in rivers and tidal estuaries. Barramundi can be found in Darwin's waters throughout most of the year.
• Golden Snapper – these fish can generally be caught all year round and are usually found in saltwater. If you're looking to catch fish to cook and eat, the Golden Snapper is an excellent choice.
• Cod and Groper – these species are arguably the most commonly caught in the Northern Territory and can grow to measure 120cm. Of course, you can eat cod, but a groper is best released back into the water.

• Giant Trevally – go for these guys if you're up for a challenge! Naturally aggressive, this tropical fish is a real fighter and is a test for any angler.
• Threadfin Salmon – these fish are often spotted breaking the water's surface. Most anglers manage to catch Threadfin Salmon weighing around 8kg. They can be caught throughout the year but can be most easily found between November and March.
Now that you know the basics about fishing in Darwin, let's run through some of the best fishing locations in the area.
1. Fisherman's Wharf
The name alone tells you this is a fantastic fishing spot! Located in the heart of Darwin next to the Fish Market, this is a great place if you're after saltwater land fishing.
Barramundi are plentiful in the murkier waters here. When the weather is cooler, you'll also be able to find plenty of bream. Being a hub for local fishing and pearls, you're sure to be in great company with other anglers if you choose to cast your line at Fisherman's Wharf.
Related Reading: How To Catch More Fish
2. Cullen Bay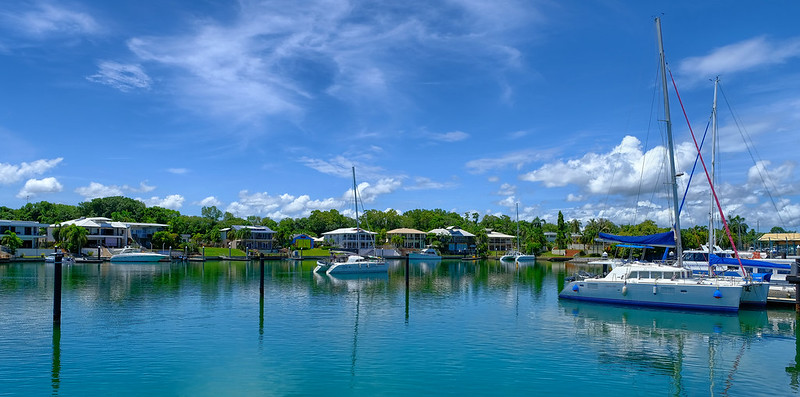 Cullen Bay is an excellent site for jetty fishing in Darwin. There are no restrictions on where you can fish, but the floating pontoon is always a popular spot. You stand a good chance of catching a Barramundi in this area.
You're also likely to catch Golden Snapper, Queenfish, and Mangrove Jack. Whether you're an experienced angler or you're just starting out, Cullen Bay is a fantastic place to hone your fishing skills.
3. Bynoe Harbour
Bynoe Harbour is an estuary complex located a couple of hours' drive from Darwin. It boasts ample access points and the waters are teeming with a wide variety of fish. If you're looking for Barramundi, Black Jewfish, or Threadfin Salmon, this is a fantastic spot for you.
At Bynoe Harbour, you can rent a caravan or lodge accommodation, and can also take part in guided fishing tours. It's a great place if you fancy a fishing holiday or short break.
Related Reading: Best Fishing Boats in Australia
4. Darwin Bluewater
Darwin Bluewater boasts plenty of access points and boat ramps and also has fantastic facilities for anglers. These include daily charters, professional fishing guides, and a variety of tackle and boat-hire outlets. Spanish mackerel and Longfin Tuna can easily be found here, and Black Jewfish and Golden Snapper are available virtually all year round.
Related Reading: Best Australian Fishing Apps
5. Dripstone Cliffs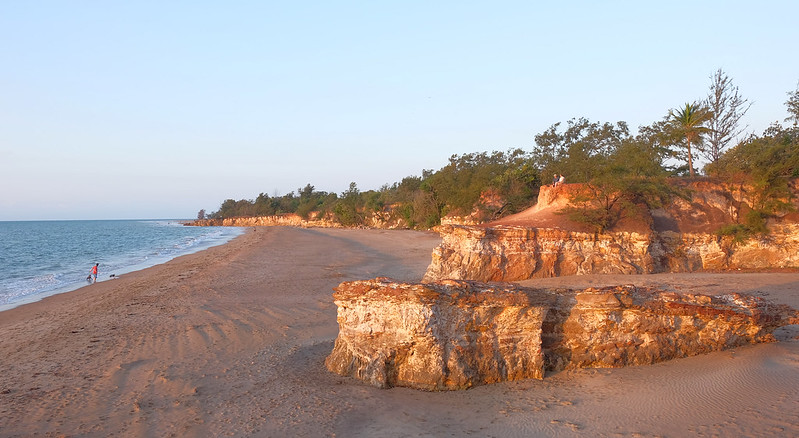 Located only twenty minutes north of Darwin, this area combines fantastic fishing with historical significance. Barramundi are less plentiful here than in other locations, but they can still be found in the summer. If you're looking for bream or whiting, Dripstone Cliffs is an ideal location that's great for a day out.
If you're looking to upgrade your caravan, camper, boat or 4WD, get a 30 second quick quote on finance with CreditOne – Australia's best rated finance broker.