School holidays are just around the corner and we know many of you have been wondering if and when your favourite caravan parks will be open. Well the great news is, no matter what state you're in, a caravan getaway could well be on the cards these winter holidays! Here's a few of our fave's we've found along the way to put on your caravanning holiday bucket list!
Blue Dolphin Holiday Resort – Yamba
Nestled sweetly next to the mouth of the Clarence River, this waterside resort has accommodation options for all types of adventure holidays. With whole units, waterfront villas, pet friendly cabins and plenty of caravan and camping sites, it's a choose your own adventure at this gorgeous location.
The resort has plenty of family friendly activities on offer. With go-karting for the kids, water park and next-door pool with a swim up bar, there's fun available for the young and the young at heart. There's also water slides, a bar & snooker hall, arcade and air cushion to keep you occupied day and night. The Blue Dolphin caravan park has both a private jetty and and 300m of river access for you fishing fans to drop a line.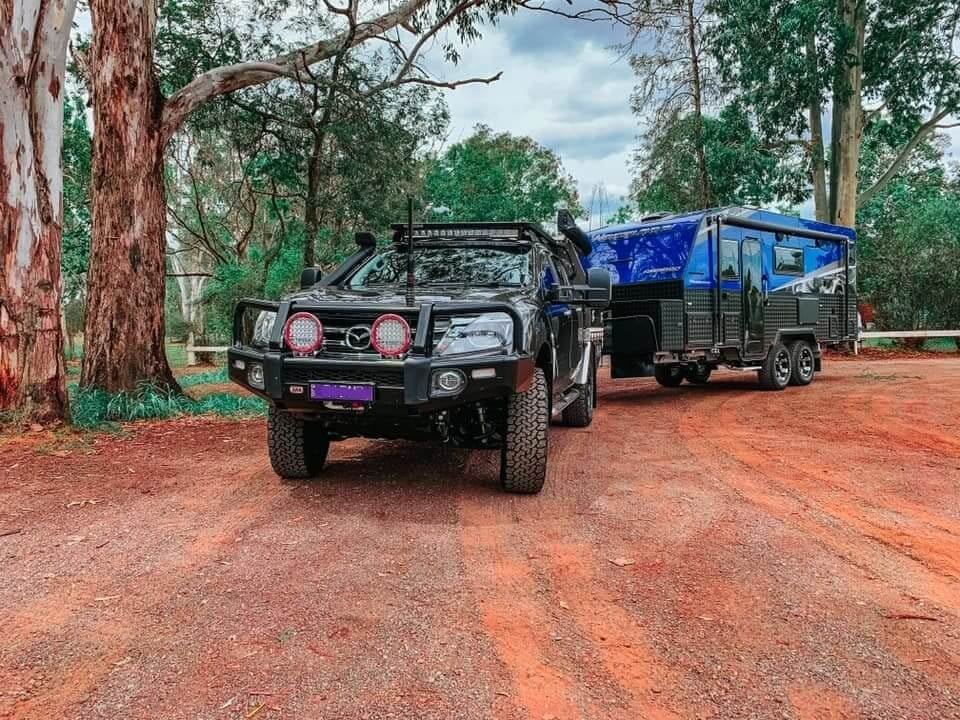 Anglesea Family Caravan Park – Anglesea
Operated by the Great Ocean Road Coast Committee the Anglesea Family Caravan Park offers incredible ocean views. Due to this, all funds raised through commercial endeavours are reinvested back into the caravan parks and the coast. This park has a great community feel and is built for family visits. 
A trip to the Anglesea Family Caravan Park serves up a host of options to keep every member of your family entertained throughout their stay. With a large recreation area, mini-golf course, jumping pillow and heated swimming pool you won't go cold these winter holidays. There are dog friendly, bush and beach or river sites available. Meaning there's a spot to suit the needs and tastes of every Great Ocean Road visitor. 
Sommerville Valley Tourist Park – Stanthorpe
If you're looking to get away from those winter winds a trip inland might be more your thing. For this, the Sommerville Valley Tourist Park could be the perfect place. Located in Queensland's Granite Belt region in the town of Stanthorpe, this pet friendly holiday park is so far yet so near. With perfect access to some of the state's best wineries and Stanthorpe's famous Sutton's Juice Factory, Cider and Shed Cafe, there's so much to explore just kilometers from the park. 
This awesome caravan park isn't just for the grown ups. It also homes many of Australia's native wildlife. Including kangaroos, possums, lizards and a variety of birds including pelicans and swans. The proximity to wildlife is a great learning experience for the kids. As are the 80 acres of natural bushland which is open for exploring. Only a short walk from the campsites, you'll find the Storm King Dam. Here you can fish, swim, go tubing or canoeing. You don't even have to pack your own gear as most if it can be rented directly from the park, saving precious packing space.
Got a favourite winter caravanning location? Send it to us on Facebook, or subscribe to OneAdventure to see if yours makes the next cut!
If you're looking to upgrade your caravan, camper, boat or 4WD, check out some of our featured dealers! Need finance? Why not get a speedy pre-approval with CreditOne – Australia's best rated finance broker.