Picture it: You're on the open road with your favourite people, or finding yourself as you undertake a life-changing solo journey. Wind in your hair, you're driving across the world's most diverse and beautiful country.

Your days are spent soaking up the sunshine before plunging into the aquamarine waters of the Great Barrier Reef or hiking through the red belly of the vast top end.

Sunsets find you unwinding by a crackling fire, and the balmy nights see you drift off, cocooned by an expanse of stars and lulled to sleep by frog song. Could it get any better?

Well, what if it were free?

Thanks to Australia's thousands of free designated campsites, it is actually possible to explore our great southern land without paying a cent for your stay.

Not only can that save you a big chunk of change, but by road tripping at your own pace, you're bound to uncover some hidden gems you never thought possible and enjoy experiences you'll never forget!
Why free camping?
Well, firstly, because it's free! The average campsite will set you back about $30 a night, which might be cheap compared to a hotel, but, if you're planning a big trip, could add up to put a reasonable dent in your savings.

Add to this the fact that you don't have to worry about pre-planning, booking fees or cancellations (they don't call it 'freedom camping' for nothing), and you'll find it's a fun and flexible way to enjoy all Australia has to offer.

It's also the perfect escape for those who truly want to disconnect from the modern world and be at one with nature. And, since many free campsites are pet-friendly, your best friend can go along for the ride!

Ok, I'm sold. Where to?

Luckily, Australia not only has the best camping in the world, but it's also home to a myriad of great no-cost sites. Let's start in the red centre.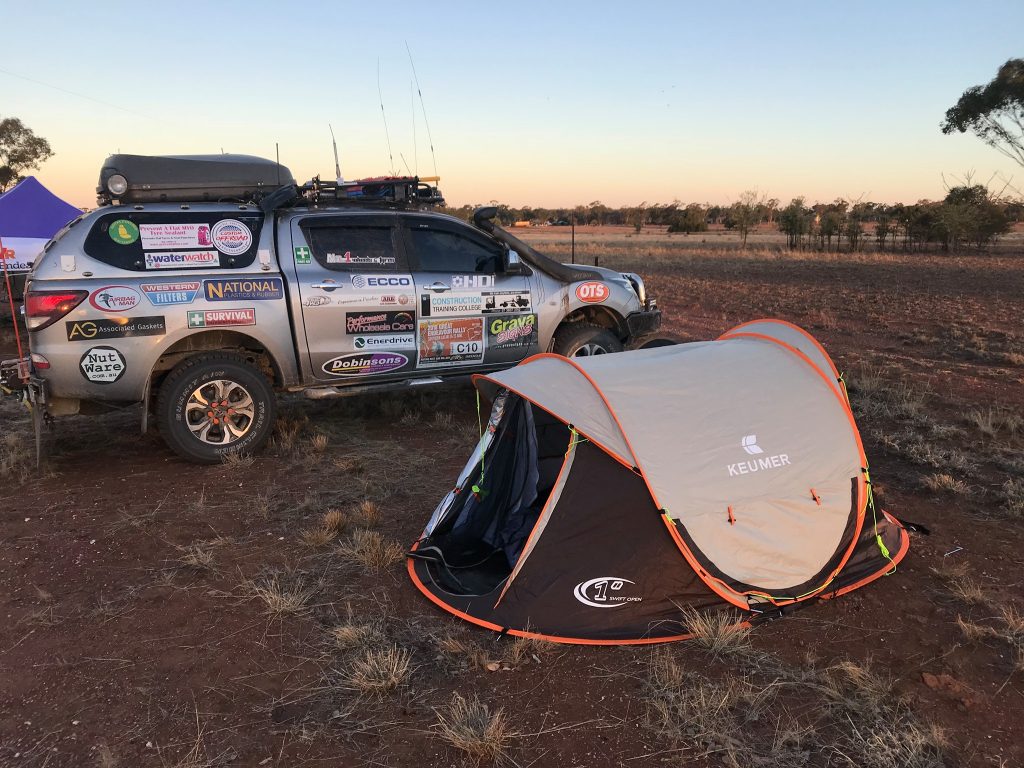 1. Mud Tank Zircon Field, Northern Territory
If you want to combine a rest stop on your journey through the rich, cultural centre of Australia with the chance to bring home a semi-precious gem, bunker down in Zircon fossicking field.

Situated 17 kilometres south-east of Gemtree, The Mud Tank area on Alcoota Station is a great little spot for self-sufficient travellers to stop, and pets are welcome.

Spend your days sifting for coloured chips of sparkling zircon, your evenings watching the sky explode in colour, and your nights immersed in the heartbeat of our nation's cultural centre.

Good to know: Make sure you have a 4WD, always take your rubbish with you (who wouldn't?) and be aware – facilities are non-existent, however, bore water can be obtained from Gemtree during daylight hours.
2. Ginty's Lookout, Northern Territory
About 40 km North-West of Kings Canyon, Ginty's Lookout (Jump Up lookout to the locals) is a perfect rest stop between Alice Springs and Uluru.

Ragged red cliffs afford the intrepid traveller unforgettable views across the vast Middle Range and Kings Canyon, a 100-metre deep gorge brimming with indigenous history and dipping to King's Creek below.

Ginty's Lookout is a picturesque and convenient place to rest, and the fire pits provide a mesmerising way to stay warm under the clear desert skies. Inside the park, it costs nothing to walk to the canyon edge for an unmissable view.

Good to know: Pets aren't welcome here, and you can only stop for a maximum of 24 hours.
3. Babinda Boulders, Queensland
Sun-soaked days and balmy moonlit nights exemplify camping up north, and freedom camping at Babinda Boulders won't disappoint.

Here, lush green rainforest envelops a crystal-clear tropical creek, cooled by Queensland's tallest mountain, Mt Bartle Frere – perfect for a refreshing dip.

Take the 1.3-kilometre Devil's Pool walk along the Babinda Creek then return to the picnic area for lunch under the rainforest canopy.

Good to know: Babinda Boulders boasts 13 large sites, showers and toilets. If you're travelling with pets, they're welcome at nearby Rotary Park Campground, which is also free!
4. Balgal Beach, Queensland
It sounds like a fantasy, but sleeping on the soft, white sands of a pristine sunshine state beach for free is possible in this piece of paradise.

One of Townsville's northern beaches, Balgal Beach offers calm waters that stay warm year-round, and the area is also home to a gorgeous creek.

Pets are welcome, and the impressive facilities include an accessible toilet, cold shower, water, BBQ, and grocery and liquor shop right across the road.

Good to know: Balgal is popular, so arrive early. A 48-hour limit, once per week, helps keep things fair.
5. Newnes Campground, New South Wales
Deep within the verdant surrounds of World-Heritage-listed Wollemi National Park is a hidden nirvana.

Boasting an array of hikes – including the famous 'Glow Worm Tunnel' trail, fabulous swimming and even canoeing, Newnes Campground is the perfect base for an activity-packed getaway.

After sunset, light one of the firepits and rest under the milky way in a setting that feels almost prehistoric.

Good to know: Don't expect running water or rubbish facilities. Visit the NSW NPS website before you go to find out what the deal is with booking at the time of your trip.
6. Bethungra Dam and Reserve, New South Wales
If you're looking to escape the city and spend a few nights in a billion-star accommodation, mark beautiful Bethungra on your map.

Not only is this a great spot to relax under glorious night skies that range from scarlet to violet at sunset, but it's also a great gateway to the surrounding Wagga Wagga region, home to heritage-listed national parks, and the birthplace of a surprising number of Aussie sporting legends!

Make time, also, to explore the old railway town of Junee, home to a chocolate and liquorice factory.

Good to know: While you'll feel like you're miles away from civilisation, there are actually great facilities here – including picnic tables, toilets, fireplaces, and even a boat ramp – plus your pooch is welcome.
7. Mount Franklin Reserve, Victoria
Keen to camp somewhere different? The unique Mount Franklin Reserve puts you in the heart of a volcanic crater, now a peaceful spot surrounded by trees and perfect for a short stay.

There are plenty of walking tracks, and the more adventurous can even hike the rim of the volcano.

Only 11 kilometres north of Daylesford, Mount Franklin Reserve is a great base for exploring Hepburn Springs, a relaxing spa resort town in the middle of Australia's highest concentration of mineral springs.

Good to know: You'll be able to park your caravan or motor home here, and there are plenty of facilities, but be sure to pack your own drinking water.
8. Blue Pool Campground, Victoria
3 hours from Melbourne, nestled in the Briagolong State Forest, is this stunning campground that offers nature lovers access to a range of trails, including the 60 km 'Track 96' for the ambitious hiker.

Most famous for the crystal-clear freshwater swimming hole, Blue Pool, after which the camp is named, this oasis is just a short walk from the leafy campground.

The bottom of a basalt gorge, Blue Pool stays warm all year long, inviting you to spend the day cannonballing in from the rope swing.

Good to know: There is no limit on the number of days you can stay at this pet-friendly site, but it's a popular spot, so get there early during holidays.
9. Mayfield Bay Coastal Reserve, Tasmania
If you're looking to break up a trip along the east coast, this small conservation area, only 15 kilometres south of Swansea, is big on natural beauty.

With epic views across Great Oyster Bay and the Freycinet Peninsula, you'll quickly unwind at this tiny beachside spot, where the sounds of the waves lull travellers to sleep under a blanket of stars.

For those interested in history, a short stroll along the beach will bring you to a creek where you can explore the unique 'spiky bridge' and the Three Arch Bridge, built by convicts in 1845.

Good to know: Bring your walking boots, because free stays of up to four weeks mean you'll have the chance to explore all the area has to offer.
10. Bay of Fires, Tasmania
Actually a collection of 8 free campgrounds, with something for every traveller, the Bay of Fires is one of the most scenic spots to set up camp in the island state.

Wherever you choose to stay, you'll be able to enjoy sparkling blue waters, glistening white sands, and the epic, glowing headlands.

As well as stunning scenery, this picturesque coastline offers plenty of trails and lagoons to explore, while Binalong Bay is a popular beach for swimming, snorkelling or surfing.

Good to know: Keep an eye out for the Bay's permanent residents, including kangaroos, wallabies, wombats, pademelons, and echidnas.
11. Talia Caves, Eyre Peninsula, South Australia
Breath-taking limestone caverns and craters make the shores of Waterloo Bay an epic place to pitch your tent.

On the edge of the ocean, you'll have the chance to explore the ancient Woolshed. An awe-inspiring granite cavern, this wave-carved wonder is a natural picture frame for stunning views of the windswept beach beyond.

For the more adventurous, climb down to The Tub, a large crater in the sandstone cliffs, with a tunnel leading out to the sea.

Good to know: Make sure you stock up on supplies at the closest town, Venus Bay. Also, as this is a bush campground, there are no toilets and fires are not permitted.
12. Plushes Bend, Riverland, South Australia
Where better to relax and reconnect with the great outdoors than with a spot right next to the beautiful Murray River.

6 kilometres from Renmark Town, this comfortable hideaway offers a host of amenities and a safe place to swim when you need to cool off in the summer.

It's a serene camp to spend a few days, where you can watch pelicans gliding over the water as the sun sets, and wake to spectacular sunrises accompanied by the call of the kookaburra.

Good to know: This is a great jumping-off point for exploring the Murray River by boat.
13. Ballinyoo Bridge, Western Australia
If going off-grid and immersing yourself in nature is your aim, head for Ballinyoo Bridge.

Boasting a large area to accommodate bigger vans or groups as well as smaller, more private sites, Ballinyoo is facility-free, but worth a visit to truly unwind.

Set on the banks of WA's second-largest river – the Murchison – here you can spend your days swimming, kayaking, and hiking, while getting up close to the local fauna, including a friendly bunch of neighbourhood emus.

Good to know: Perched between Murchison Roadhouse and Mullewa, prepare for dirt road and self-sufficiency. Pets are welcome and there is wood onsite.
14. Cosy Corner, Western Australia
While it may sound like the name of a quaint café, Cosy Corner is actually a little slice of heaven on the West Coast.

The campground here is pet-friendly and provides a stunning gateway to pristine sheltered beach and island group within Ngari Capes Marine Park, ideal for diving and snorkelling.

On a calm day, you can meet an array of colourful fish, including the local giant groper. In rougher weather, take a walk up the jetty to check out the explosive blowholes formed in the limestone – they can reach 6 metres in height!

Good to know: Cosy Corner is popular for beach and rock fishing but be warned – it can be dangerous. All other types of fishing are prohibited, including boat and spear, as well as octopus trapping.
15. Green Patch Bay, New South Wales
Adorable native animals, a glistening ocean, secluded sleeping spots – Green Patch Bay in Jervis Bay has it all.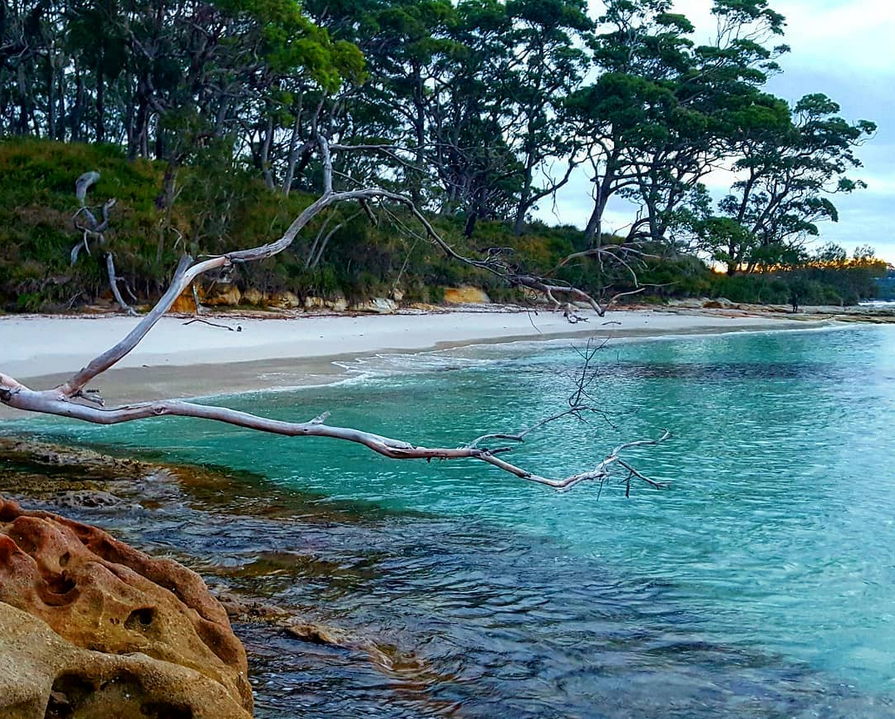 Located in Booderee National Park, the sheltered beach invites you to laze on white sands, snorkel in aquamarine waters or whale watch.
After a day of sun, sand, and sea, enjoy peace and privacy with Green Bay Campground's generous tent or trailer sites.
With creature comforts like toilets, hot showers and fresh water, you might just stay the maximum allowed 21 days!
Good to know: Green Patch isn't 100% free (from $7 p/n) but is the closest you'll come nearby. Book early!
16. Toorooroo Campground, New South Wales
Thirty minutes west of Nowra, this hidden bush campground is a tranquil spot for a short stay under the stars, complete with a crackling campfire.
Set amid the Ettrema Wilderness Region's trademark wattle and gum trees, the camp has space for just three tents, with minimalistic barbecue facilities, tables, and a drop toilet.
While not glamorous, this is an uncrowded base from which to enjoy bushwalking, freshwater fishing, 4-wheel driving and water activities in the Shoalhaven River.
Good to know: This rustic site is remote and unpowered. Gear up with drinking and cooking water, and BYO firewood.
---
So, there you have it – a by-no-means-exhaustive guide to free camping in Australia to whet your appetite for your dream trip.

If free accommodation and flexibility sound like your idea of fun, give free camping a go.

Just bear in mind that this is true 'wild' bush camping – many of the spots don't have facilities, so take your own water and power – and don't forget to make plans for your rubbish to ensure our island stays one of the most beautiful places money can't buy.
If you're looking to upgrade your caravan, camper, boat or 4WD, get a 30 second quick quote on finance with CreditOne – Australia's best rated finance broker.