Before attempting to tow a trailer, caravan or camper off road, it's important to first ensure that you have mastered the art of off road driving. Off road towing is not easy and should only be attempted by experienced off road drivers. Preferable in a towing vehicle that you are experienced with.
For those of you who meet this criteria, here's a couple of off road towing tips to keep in mind for your next adventure. 
1. Have the Right Tools and Accessories
Just as with an ordinary off roading adventure it's important to ensure you have all the necessary tools and accessories on hand. You never know when you may need them. When it comes to off road towing accessories, some things you should always ensure your vehicle and trailer are equipped with include: 
Off road tow hitch 
Accompanying off road ball coupling 
Electric brake cable 
Stone deflector 
Toolkit (including screwdrivers, duct-tape, cable ties, ratchet straps & WD-40)
Puncture repair kit
Jumper Leads
Off road recovery kit
Whilst it's important to remember the basics, make sure you bear in mind your towing capacity. All these extra items bring with them extra weight which could mean you surpass the limits of your towing vehicle. Even if you're only embarking on a short off roading adventure you never know what you may need. Carrying the basics and travelling in a group helps lower the chance you'll get stranded. 
2. Pick the Right Tyres
As with any off road adventure, ensuring you have the right tyres and tyre pressure has a huge impact on performance. Both performance of your vehicle and towing trailer as well as performance of your fuel efficiency. Many experts will tell you that when you're towing an off road trailer or van you will need mud tyres. Other will tell you that all-terrain will suffice as long as you have a light-truck designated tyre and not just passenger tyres.
We believe with your off roading experience you know what tyres work best for your given towing vehicle. After all there's not "one size fits all" solution for this. Particularly when you take into consideration the numerous different types of terrain found throughout Australia. However, it is important to keep an eye on your tyre pressure and adjust according to your terrain. This goes for both your towing vehicle as well as your trailer or caravan. 
There are tyre pressure monitoring systems that you can invest in, should you intend to embark on off road towing adventures on a regular basis. These systems can keep you informed of changes in your tyre's temperature and air pressure so you stay ahead of any potential issues.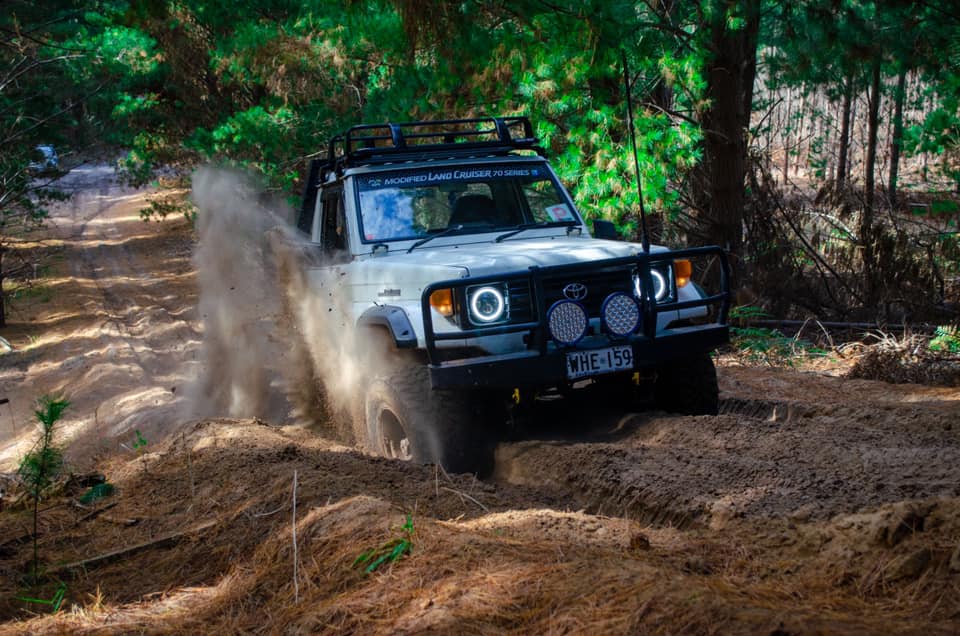 3. Choose the Right Tracks
Some off road tracks are simply not built for towing. They may be too narrow, high clearance or be a dead end. Many off road tracks not designed for caravans or trailers will be signed, but it's always best to do your research first. It's also important to be mindful of how long the tracks you'll be taking are. Towing impacts your fuel economy and in some remote areas, you could find yourself stuck if a track turns out to be longer than anticipated. 
Performing a U-turn with a caravan in tow can be an incredibly difficult feat. Doing your research to ensure all your off road tracks are open for business will help with your towing experience. As will keeping your eyes peeled throughout your journey. Many off road tracks can feature low hanging branches which can cause havoc with the van or trailer you have in tow. We recommend joining some forums and chatting to your off road adventure mates first for track recommendations when taking a trailer. 
For some great off road track recommendations and more info on safe towing, subscribe to OneAdventure today!
If you're looking to upgrade your caravan, camper, boat or 4WD, check out some of our featured dealers! Need finance? Why not get a speedy pre-approval with CreditOne – Australia's best rated finance broker.