Investing in your first 4WD vehicle is exciting, as you can begin preparing for your first off-road adventure. Though you can't simply jump into the car and go. Planning your first adventure takes careful organisation and thorough preparation.
From our experience and passion for the off-roading adventure, we have collated our top tips to planning your first 4WD trip. We've shared with you the points to consider before taking to the open road safely.
Decide When You Can Get Time Off
Starting your trip begins with time logistics. 4WD adventures are best when spread out over many days, to weeks, allowing you to see more locations and landmarks in one trip. Before planning your first 4wd trip, find out the amount of time you have for your adventure.
Ask your employer about annual leave and how this works with your fellow traveller's schedules. Knowing how long you have for your experience makes the next steps easier to plan. Time restrictions often dictate what you can achieve on your 4WD adventure.
Set A Budget
There are many costs associated with off-roading adventures besides the cost of the vehicle itself. Acquiring gear such as camping and sporting equipment and navigation technology can be costly. Especially so for first-time adventurers needing to build up their 4wding kit.
Consider the costs of the essential items you'll need to purchase for your first big trip. Including items such as a first-aid kit, recovery gear and safety tools like UHF radios. It may be best to wait until you've established a 4×4 trip kit before setting out on your adventure.
Adding up the costs of petrol, accommodation and food supplies can also equal more than you anticipated. By setting a clear budget, you will know how long you can afford to be on the road. You can also plan how far you can get based on your resources. Bear in mind your fuel consumption will increase when towing a trailer so that should be factored in if taking a camper trailer or similar.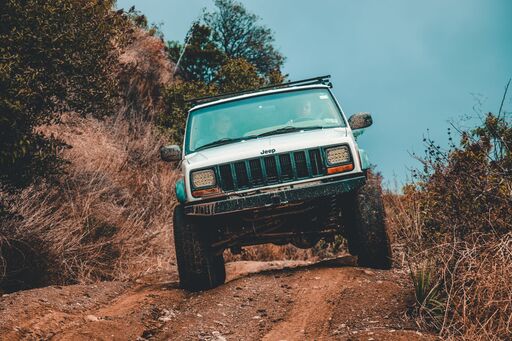 Create Your Sight-seeing Bucket List
Planning where you'd like to visit and what you want to see is one of the most exciting aspects of arranging your first 4wd adventure. However a big, and common, mistake is trying to see too much at once. Trying to fit in too many sights can see you travelling wildly in different directions.
A great way to start is by creating an adventure bucket list for yourself. Though you won't be able to tick off every item on the first go, you can refer back to the list as you plan each additional trip.
Be Realistic About Your Abilities
Your first 4wd trip can be fraught with hazards. Such as unexpected road closures, water crossing and animals interferences. On top of trying to get used to handle on driving off the beaten track.
Understanding your limitations for your first trip is essential. Don't bite off more than you can chew. Consider a trial run or travelling with seasoned four-wheel drivers if you can find some. This will help you learn the style of off-road driving that you like and keep you safe as you learn.
For more tips on how to have safe and exciting off-road adventures subscribe to OneAdventure today!
If you're looking to upgrade your caravan, camper, boat or 4WD, check out some of our featured dealers! Need finance? Why not get a speedy pre-approval with CreditOne – Australia's best rated finance broker.