Every adventurer worth their salt must visit Fraser Island at least once – although, after you lay eyes on its 184,000 hectares of heritage-listed reef and rainforest, you'll want to return again and again.
Known as K'gari (paradise) to the indigenous owners, Fraser Island is a four-hour drive from Brisbane, with an additional picturesque 30 to 50 minutes on the ferry.
While there's never a bad time to go, there are ideal times, depending on what you hope to find!
Things To Do on Fraser Island
4-Wheel Driving – Simply the best way to explore the island – especially the renowned 75 Mile Beach, a unique sand highway with views to die for. Keep in mind, the whole place is one giant sandbar, so you need both the skills and the right vehicle to 4WD safely.
Sun, Surf and Sand – Fraser is home to gorgeous beaches, perfect for boating, fishing, and swimming. While ocean swimmers are warned of sharks, the island also boasts 40 lakes, including the incredibly clear (and popular) Lake McKenzie.
Cultural Immersion – There are over 500 spiritually significant sites on Fraser, each painting a picture of the way of the Butchulla people, who've lived in harmony with nature for over 5000 years.
Hiking in Nature – There are loads of scenic walks here. Among the best is the track to Central Station, along which Basin Lake provides a refreshing stop. If you're feeling energetic, tackle the six to eight-day Great Walk!
Weather On Fraser Island
Owing to its location in the 'sunshine state', Fraser gets more than its fair share of warm, bright days and long sultry nights.
This is especially true during summer when high humidity can be a little much for travellers not used to the mugginess.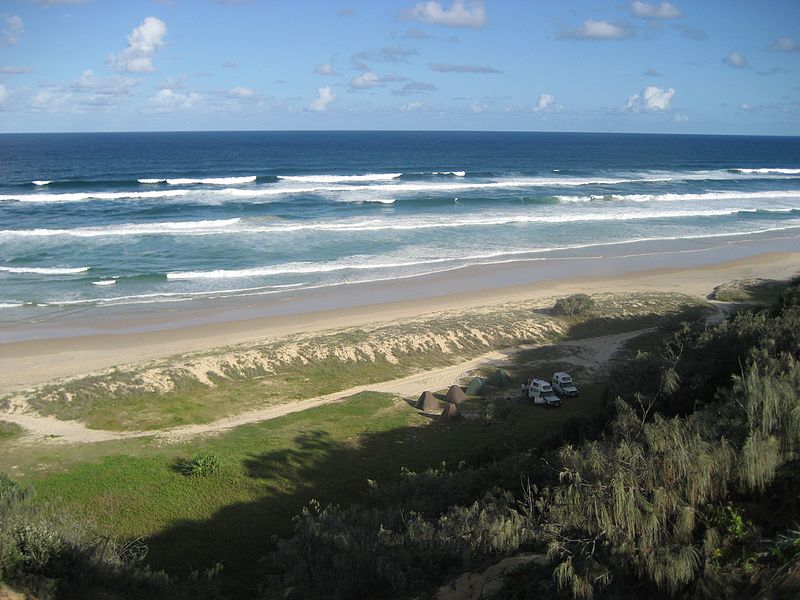 Still, if you're willing to brave the moisture, and believe a beach holiday must be summer, you'll be rewarded.
Expect blazing days with an average temp of about 30 degrees and nights that aren't much cooler. Just be aware that the height of summer can bring heavy rainfall.
For those who don't believe hotter is better, spring is the sweet spot for days that are not too hot (about 25 degrees Celsius) and unlikely to see any rain.
Check bom.gov.au for current weather forecasts in Fraser Island.
When Is Fraser Island's Peak Season?
Generally, peak season is September through to January, with Christmas and New Year's usually seeing campsites fully booked well in advance.
Easter School holidays (March and April) also tend to see the island get busy, especially across accommodations with dingo proofing, as people flock with younger children.
If you're hoping to see whales – and avoid the bulk of the crowds, you might consider planning to go in winter – just be aware the water is a little cool (22 degrees) then.
Best Time To Visit Fraser Island For Cost
Admittedly, Fraser Island isn't the cheapest place to visit – petrol can be pricey, meals can add up, and, if you're planning to do tours or hire a 4WD, it can get expensive.
That said, you can make a good go of visiting the island in about three to five days, which helps keep costs down.
Additionally, Fraser Island is home to some great camping at affordable rates, while holiday rentals will mean you can cook at home for even more savings.
Between July and October, the fishing is superb, so, aside from being a great time to indulge your hobby, you can catch your dinner for nothing!
Recommendations
In general, dry, mild weather makes autumn and spring a great time to go camping and hiking on Fraser Island, although water lovers may prefer the sparkling summer.
July to October is whale watching season, where beachgoers are treated to the incredible display of humpback whales migrating (sometimes with calves in tow!) through the crystal blue of Hervey Bay.
To see this spectacle up close, take a kayak out on Platypus Bay, head to any of the inlets of 75 Mile Beach, or hike up to Indian Head for a birds-eye-view.
Dingos are another famous fixture of Fraser, and there's believed to be around 250 of them on the island.
It's not wise to get too close to these wild dogs, especially in autumn, when mating season can cause aggression, but, they are beautiful to see.
Between June and November, you may even spot some adorable pups!
All said, it's always a good time to visit Fraser Island.
The important thing is to plan ahead – from car permits to freshwater, to campsite bookings, the remoteness that makes Fraser spectacular also makes preparation essential.
Related Reading
6 Best Camping Spots on Fraser Island
Best Places to Visit on Fraser Island by 4WD
Fraser Island Annual Pilgrimage
If you're looking to upgrade your caravan, camper, boat or 4WD, get a 30 second quick quote on finance with CreditOne – Australia's best rated finance broker.