Situated in the tranquil Whitsundays off the coast of Queensland, Hamilton Island is a picturesque paradise that is a favourite of many Australians.
The largest island in the Whitsundays, "Hamo" – as it's affectionately known to the locals – boasts crystal blue waters, white-sand beaches, and a plethora of marine life. Hamilton Island is a beautiful island to visit for anyone looking to experience a piece of paradise or visit the Great Barrier Reef.
It's also the perfect place to head out for a snorkelling or diving tour in some of the most scenic spots in Australia. The only thing you need to decide now is when to visit.
Things to do on Hamilton Island
You won't be short of activities if you want to get out and explore Hamilton Island. Take a day out and explore beautiful Whitehaven Beach, which has been voted one of the best beaches in the world for a good reason.
If you're looking for a great way to see all of Hamilton Island, why not take a helicopter ride around the island? You'll get a view like no other. Is a relaxing day full of food and poolside views is more your thing? Treat yourself to some of the award-winning restaurants that are on offer.
For the fish wranglers among us, a day of fishing might just be the perfect way to spend a day on Hamilton Island. Consider hiring a charter and spending a few hours out on the water.
Hamilton Island Weather
Hamilton Island weather is nothing short of spectacular. The Island has wonderful weather year-round, with everything from hot and humid summers to warm and dry winter months. The best time to visit will depend on what kind of weather you prefer.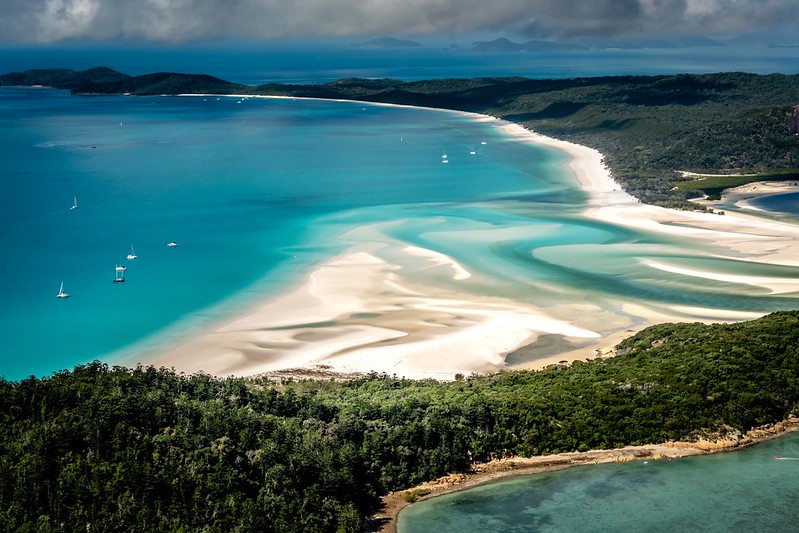 From January to March the Australian Summer gives the Island a hot, humid climate averaging around 29 degrees Celsius. This is when the Island will experience the highest amount of rainfall. April to June boasts a balmy 24 degrees with minimal rainfall and plenty of sunshine.
This is the perfect time to visit if you want to explore the scenery in relative cool. July to September is a favourite time for many to visit. The cooler days are still packed with sunshine and it's a great time to head out for a swim. Temperatures average a comfortable 23 degrees. The weather is heating up again from October to December, with the humidity and longer days making a comeback. Plan for an average of 28 degrees.
When is Hamilton Islands peak season?
The Christmas season, or October to December is the peak season on Hamilton Island. The summer holidays are just beginning and families are flocking to Hamilton Island for a tropical Christmas. Just imagine crystal waters and white-sand beaches. Easter weekend is also a fairly busy time for the Island, with families visiting the island for a short getaway.
If you were hoping to visit during a quieter period, July to September is a fantastic time to visit. The weather is beautiful, rainfall minimal and the temperatures still warm.
When is the best time to visit Hamilton Island for cost?
Are you hoping to keep costs down a bit when you visit Hamilton Island? The best time to visit would be anytime outside of peak seasons.
Peak seasons are generally considered school holidays and Christmas season. For better deals and prices that are going to be substantially lower, consider travelling in the off-peak seasons. Hamilton Island peak seasons are event-based, not season-based. This is great as off-peak season generally has more temperate weather with lower rainfall as well. Fantastic for those individuals who don't thrive in the humidity.
What are you waiting for?
If you're looking for an affordable holiday with beautiful weather, then the off-peak seasons are going to be your ideal time to visit. Maybe you were thinking of visiting Hamilton Island with the hopes of seeing whales?
If so, June to September is your ideal time to head over for a holiday. You can even meet the resident Koalas on the Island if you were thinking of spending some time with the cuddly little bears.
Hamilton Island is an absolute gem just waiting to be explored. Its year-round warm climate and beautiful scenery make it a favourite of many Australians and international people alike. Whether you're heading to Hamilton Island to experience some of the seriously impressive fishing or you have a more relaxed trip planned, Hamilton Island has something for everyone.
With its stunning scenery, beautiful warm weather and numerous outdoor activities, Hamo is a beautiful Island to spend a few days on. Like most people who visit, you'll probably find that you won't want to leave.
Related Reading
8 Best National Parks to Visit in Queensland
The 4 Best Free Camping Spots in Queensland
If you're looking to upgrade your caravan, camper, boat or 4WD, get a 30 second quick quote on finance with CreditOne – Australia's best rated finance broker.