When can I go camping? It's the question many Aussies have been asking the government and themselves in the wake of COVID-19. Amidst home confinement restrictions, social distancing and border closures, the favourite outdoor pass-time has started to feel like nothing more than a pipe dream, never to become true.
There have been many updates this week on national and state levels. Both working to update Aussies on when we can expect restrictions to be lifted. To help you make sense of the abundance of information, OneAdventure has compiled this guide to getting back in the wild.
Federal Updates
Last week the federal government released the three-stage approach to lifting COVID-19 restrictions. The below diagram shows the structure each state will follow as rules ease and life returns to "normal".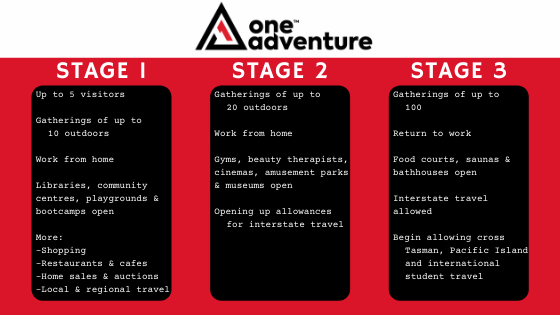 According to this structure in stage one Aussies can begin congregating outdoors in groups of up to 10 persons, whilst maintaining social distancing. At this point you may also see more shops open, outdoor boot camps re-open. Homes can also go up for auction again and outdoor playgrounds reopen. Stage one is also the beginning of additional travel within local & regional areas.
Stage two sees outdoor gatherings increase to up to 20 persons and state borders opening. Upon discretion of the individual state governments, of course. Stage two, is also the beginning stages of allowing Aussies to train in gyms, visit beauty therapists, museums and amusement parks.
Finally, stage three sees all Aussies return to the workplace. This is when food courts & saunas open again and outdoor gatherings increase to 100 persons. Most excitingly of all, stage three is when we begin to see an ease in international travel restrictions.
All this information is great, but the question remains, "when can I go camping again"? Well the good news is there's a light at the end of the tunnel. For some states this light will shine brighter than others but the return to camping is coming for all Aussies.
State Updates
Queenslanders are set to return to the campsites in stage two of restriction updates. At this stage that is scheduled to arrive on approximately the 12th of June, 2020. For NSW and VIC residents, the return to camping may be a bit further away with stage one slowly beginning implementation from early May. Though residents in these states may not yet be able to go camping, they can go hiking, fishing and boating for a shorter taste of the outdoors.
Lucky Northern Territory & Western Australian residents are free to go camping as we speak! As of Monday the 11th of May, South Australia also lifted their ban on camping and carvanning, allowing residents to spend the night in the great outdoors.
Those of you in Tasmania questioning "when can I go camping?" will be glad to know your return to the outdoors is closer than previously thought. Stage two for our southernmost state is set to begin from the 15th of June 2020. Meaning there's just over a month until Tassie residents can safely camp in groups of up to 20 persons.
The capital territory of Australia, or ACT was quick to jump into easing some restrictions in alignment with the federal government's recovery roadmap. However, they have not yet released any information to say when the ACT will be looking to enter the next stage of recovery.
To keep up-to-date with the latest recovery updates and find out when your state is ready to reintroduce camping subscribe to OneAdventure today!
If you're looking to upgrade your caravan, camper, boat or 4WD, check out some of our featured dealers! Need finance? Why not get a speedy pre-approval with CreditOne – Australia's best rated finance broker.