There is nothing better than going on a trip knowing that your caravan is clean and tidy ready for a good vacation away. However, getting it to an immaculate state is not always an easy process.
Not only does looking after the interior take some consideration but you also need to think about ways to ensure that the exterior remains clean and undamaged during inactive periods.
So what can you do to ensure that your caravan remains in pristine condition? Here are some of our top tips for cleaning your caravan
Maintaining The Interior
The best way to manage the interior of your caravan is to treat it like any room in your own home.
This means giving the furnishing, carpets, and kitchen areas a good once over just before and after your trip has finished. The good thing about most caravan interiors is that you can transfer the same cleaning methods and cleaning products from your home to the innards of your caravan.
What should you include in your interior cleaning? Here are a few tips:
Always have a vacuum on hand
As your caravan is likely to be taken off the beaten track, having a vacuum stored in your caravan is absolutely essential. Always use it on a daily basis when staying there to suck up any dirt, grass, or other outside debris that may be brought in.
Once your trip is finished, a thorough vacuum throughout the entire cabin will ensure that is ready for when you set off next time.
Don't be afraid to treat stains
If you have kids, there is always going to be an increased risk that they may drop food or drink on the internal seats during meal times. Rather than leaving it, be prepared to treat stains as or when they happen.
Most household cleaning products work just as well on caravan furnishings as any other carpets so these are great for cleaning up messes in any kitchen area.
Maximize storage space
If you have toys, clothing, and other items that stay within the cabin, consider maximizing storage capabilities in any underutilized spaces.
Generally, the bottom of the wardrobe, underneath seating benches, and overhead compartments are great areas to store items during inactive periods whether it be awnings poles, cleaning products, or general items that you use during camping.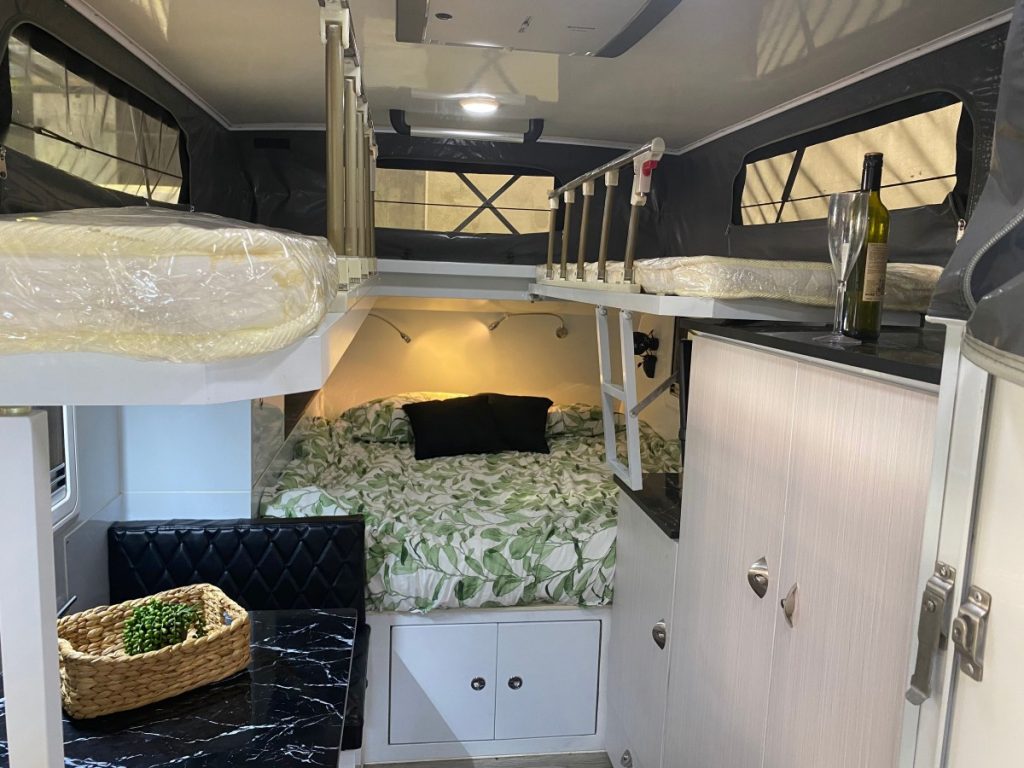 Utilizing these tactics prevents the inside of the cabin from getting extremely cluttered when your caravan isn't in use. This makes it easier to find items when you are packing and ensures that all the living spaces remain pleasant to live in whenever you get ready to set off on another excursion.
Searching for a new caravan or RV? Get low rate finance through Credit One. Apply online in 60 seconds.
Regular Exterior Maintenance
Looking after the outside of your caravan can be tricky as mother nature can play havoc with the paintwork and body if you aren't careful.
Luckily, there are several tricks and tips you can use to keep things in tip-top shape such as:
Weatherproofing materials
One of the biggest challenges is ensuring that the weather doesn't ruin the paintwork of your caravan over time.
A great way to avoid this is by annually getting the paintwork maintained using weatherproof paint. Weatherproof paint helps prevents the paintwork from getting chipped by debris or rainwater leaving nasty streaks if left untreated for weeks on end. A great investment if maintained regularly.
Avoid corrosive products
When cleaning the exterior of your caravan, always avoid heavy-duty cleaning products. Whilst industrial paints and cleaners may seem like a good idea to remove heavy debris, it hurts the overall lifespan of your caravan.
From ruining the paintwork to potentially damaging the windows, corrosive products do more harm than good and should not be seen as an efficient shortcut.
Think about coverings
It can be easy thinking that the caravan will be fine sitting outside for months when it isn't in use. However, investing in some sort of storage or coverings can prevent you from having to do unnecessary maintenance.
Of course, putting it in the garage is always an easy solution should you have one. However, a large carport or other semi-covering will help prevent debris or grit from landing on the body and reducing the amount of long-term maintenance needed for the shell.
Looking after the exterior of your caravan is a smart move to make throughout the year and has multiple benefits making it easier to physically maintain and reducing the overall costs of running it on an annual basis.
Key Cleaning Tools
To get the most from cleaning your caravan, you should think about having your mini cleaning kit filled with the dedicated tools and products needed to get the job done. What should it contain?
Ideally, it should have:
· Weatherproof paint – An essential item for protecting the paintwork all year round
· Disinfectant – A necessary product for cleaning the toilet and waste systems safely
· Vacuum cleaner – A must-have tool for ensuring carpets and furnishings are cleaned of dust and debris.
· Cloth rolls and surface cleaner – A great combo for maintaining the dining and cooking facilities inside your cabin
· Squeegee – Essential for cleaning windows properly. Great for removing excess suds after windows have been given the hot, soapy sponge treatment. Also useful for removing the excess water in both the kitchen and bathroom areas
· Broom and dustpan. A great combo to help clean in any awning or adjacent coverings to the main cabin. A quick and easy way to prevent extra dirt from entering the living area.
Like any good cleaning arsenal, these tools will only be effective if you use them in the correct manner. If they are used in the right way, it will always ensure that your caravan always remains in pristine condition.
Conclusion
Overall, when maintaining your caravan, it's imperative to make sure you look after both the interior and exterior of the vehicle.
Ensuring that the living areas are dust-free and organized neatly makes it much easier to pack any items you need to take with you and is much easier to set up when arriving at the campsite.
Furthermore, maintain the exterior of your caravan dramatically increases the lifespan of the vehicle and enables it to be one of your most prized assets. By maintaining it with all the right cleaning tools and products, you will be ensuring that your caravan is the "home away from home" all year round.
If you're looking to upgrade your caravan, camper, boat or 4WD, get a 30 second quick quote on finance with CreditOne – Australia's best rated finance broker.