Most boating and fishing enthusiasts aren't deterred by rain or tumultuous, miserable weather. Though some situations aren't ideal for sailing and even the most experienced traveller should exercise caution. Every boat needs specific wet weather sailing gear and equipment to survive rough days at sea.
It is absolutely critical to be prepared for these situations. Here are the wet weather items every boat needs and the specific gear designed to withstand heavy rain and downpours.
Weatherproof Jacket
When the rain strikes you out on the boat it's essential to stay as dry and warm as possible. As some boats don't have undercover canopies, you'll need a waterproof jacket designed for outdoor use.
When shopping for a boating jacket, look for materials such as Gore-Tex, PVC, Neoprene and Polyurethane. You can find coats from these materials in travelling stores and outdoor equipment retailers.
In order to get the perfect fit you'll need a coat big enough to fit over your existing layers. You'll need your underlayers to remain warm. The ideal jacket will also have a hood that reaches over your head and hat.
Boots Designed For Boating
Every enthusiast needs a pair of sailing boots or sea boots, intended for wet conditions. These types of boots are usually gripped differently to the typical household or gardening boots. They are specially designed to keep you stable on slippery decking surfaces.
The soles are also perfect for boat materials. With these shoes, you won't need to worry about marking surfaces such as the boat decking.
We recommend trying a few on and finding a fit and length that's right for you. Some seafarers opt for a short shaft style to allow movement and extra freedom, but it's all personal preference.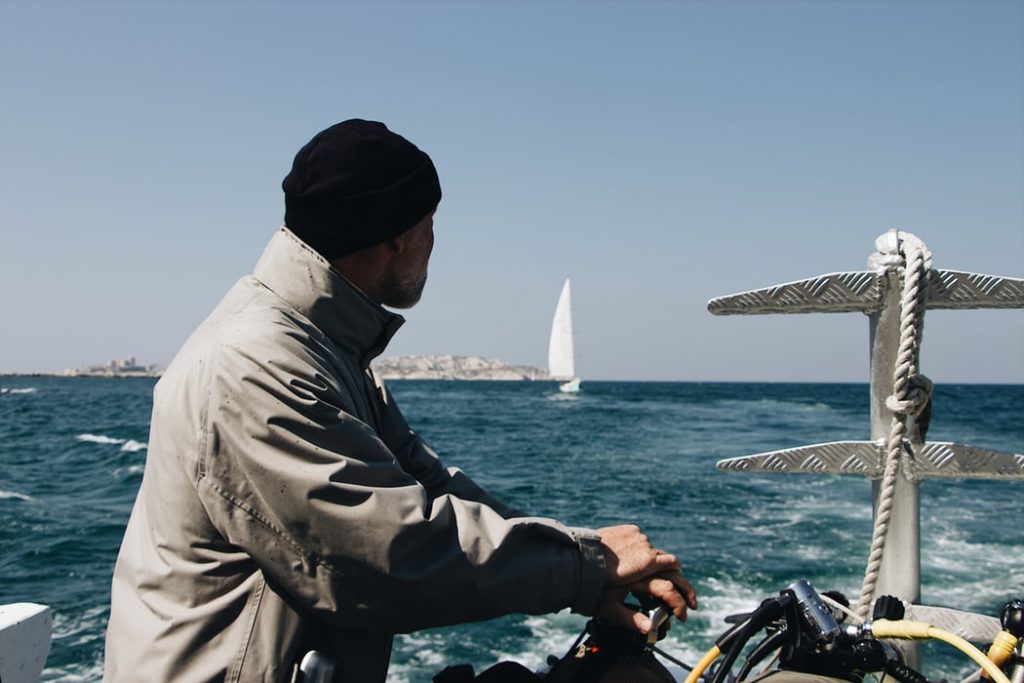 Invest In Layers
When it rains, it pours. You will find wet weather extremely cold out on the open sea. This is when quality wet weather sailing gear comes in to play. Though a wet weather jacket will help you stay dry, these options don't usually accommodate for heat retention or provide added warmth. You will need other essentials such as gloves, with open fingertips for grip, face and neck warmers and goggles to protect your eyes.
Worn underneath your waterproof jacket, you should be able to stay warm and dry during the rain, especially when choosing adventure brands and thermal varieties.
Avoid Conventional Wet Weather Precautions
Most of the items listed in this article are common sense. Big weatherproof jackets and warm layers are essentials, even off the boat. However many items on which we rely on land are not appropriate at sea. Umbrellas, for example, can be extremely dangerous, especially as the wind picks up. If the umbrella is let loose, it can strike you or fellow passengers or can become lodged in the boat's motor.
Once on land, your umbrella is safe to use but should be avoided at all times during the sailing adventure itself.
For more information on having a safe boating trip, planning for the unexpected and packing tips subscribe to OneAdventure today!
If you're looking to upgrade your caravan, camper, boat or 4WD, check out some of our featured dealers! Need finance? Why not get a speedy pre-approval with CreditOne – Australia's best rated finance broker.