Buying a car is usually an extensive process. Now in 2021, that process generally starts online for most car buyers.
In the past, car buying was limited to a select few websites in Australia. But now car buyers have more choice than ever. There is an array of Australian car sale websites online now.
With the market becoming more competitive online every year, new car buying sites are entering the market and offering a better experience for buyers and sellers. Many of these websites offer not only cars but caravans, boats, trucks and motorcycles as well.
Given there are so many options available now, we have narrowed it down to five of the best car buying websites. If you're looking to buy a car, these are the sites to visit.
The Cartopia website features a large selection of new and used cars throughout Australia.
As well as being able to search through classifieds listings on the website, users also have the option to use Cartopia's car finder service. This allows the buyer to enter the details of the car they are looking for and have a car specialist find the vehicle at the best price for them.  This is an excellent feature that you won't find on most other car classifieds websites.
If you're looking to sell your car, Cartopia also allows users to submit private sale listings. Users pay a one time fee, which is cheaper than most other private sale websites.
One of the key advantages of Cartopia is its ease of use and simple navigation. Users can easily search and filter through the listings available on the site.
Cartopia may not be as well known as some of the other websites in this list as it was only launched this year. But the site is quickly gaining a strong reputation among car buyers and dealers around Australia.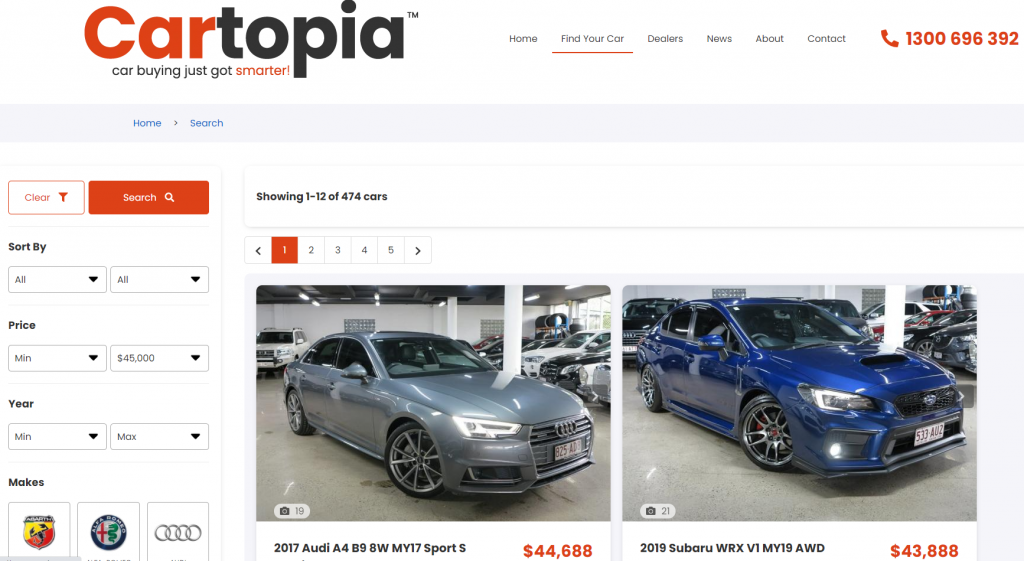 Aside from vehicle listings, the Cartopia website also features a collection of reviews of some of Australia's most popular cars.
Cartopia is highly recommended if you're looking to buy a car in 2021.
Gumtree says it is now Australia's number one destination for privately listed cars. With over 90,000 listings currently in February 2021, Gumtree is one of Australia's largest car sale websites. It is the 26th most popular website in Australia according to Alexa rank.
Key benefits of the Gumtree website are the huge volume of listings, with thousands of new listings added every day. The ability to deal directly with private sellers is also an advantage. Gumtree makes it easy to quickly message the seller or call them if you wish.
Gumtree also offers the option to make an offer on listings. This is good for buyers wanting to get a good deal and also for sellers wanting to make a quick sale.
As well as cars, the Gumtree website also features classifieds for caravans, campers, motorbikes, trailers and trucks.
Car Sales is widely known as the largest car classifieds website in Australia. The website offers thousands of new and used vehicles from both dealerships and private sellers.
Regardless of what vehicle you're looking for, you should be able to find it on Car Sales. There is also a good range of search filtering options to narrow your search and find the car you want.
As well as their huge range of cars, carsales.com.au also provides car reviews, car news, comparisons and their car of the year feature. If you're looking for a caravan, boat, truck or bike, the Car Sales network also have separate websites for these assets.
Car Sales also offers an app, which is available on Android and iPhone.
In recent years, social media platform Facebook has become one of the more popular options for car buyers and sellers in Australia. Cars are sold through Facebook Marketplace and buy/sell groups on social media network.
The range of cars available is generally limited to used vehicles only. You will find listings from both private sellers and dealerships.
If you already have a Facebook account, it's easy to get in contact with sellers through Facebook's messaging system. Facebook can be appealing for sellers also, who can list their vehicles in Marketplace and groups, unlike many other sites where sellers need to pay for a listing.

Compared to other sites, Facebook offers fewer search filtering options in Marketplace, which can make it difficult for users to navigate.
Facebook can be a good option for buyers looking for a lower cost second-hand vehicle. Boats, caravans, trailers and other assets are also sold through Facebook.
Since a merger with Gumtree in 2020, Cars Guide and Gumtree are now part of the same group. Carsguide.com.au claims to be the number one automotive editorial in Australia, with thousands of car reviews and news posts on the website.
Cars Guide has a large selection of both new and used vehicles available on the site. Currently, in February 2021, over 56,000 used cars are listed and nearly 10,000 new vehicles.
Because they are partnered with Auto Trader as part of the Gumtree car group, vehicle listings go on both websites.
The car classifieds section of Cars Guide is user friendly and easy to navigate. But the biggest appeal of the Cars Guide site is the extensive car guides and reviews.
Summary
Each of the websites in this list offers an extensive range of vehicles, as well as valuable resources and guides to help with your car buying journey. Before stepping into the dealership, search the cars available on these sites to find what you're looking for.
Most good car buying sites will also give you the option to organise finance and insurance on your car purchase as well. This can save you time later and help you get a better deal than you would otherwise get at a dealership.
If you're looking to upgrade your caravan, camper, boat or 4WD, get a 30 second quick quote on finance with CreditOne – Australia's best rated finance broker.